Sales doesn't want a lot of leads – they want leads that convert!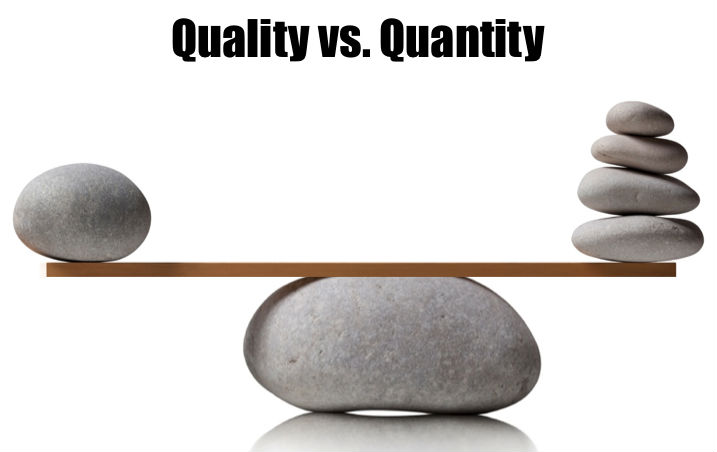 Let's take trade show leads as an example... are those qualified leads? Some might say yes, but most likely they entered your drawing to win a cool give-away. Sales people don't want to waste their time calling trade show leads, they want to call leads that have been qualified. It is marketing's responsibility to nurture the leads to find out who really is interested in the products/services offered and only forward qualified leads to sales.
---
In a recent study Ascend2 asked B2B marketing professionals "What are the most important objectives of an effective lead generation strategy?" The number one B2B lead generation objective (70%) was to improve the quality of leads. The second objective (58%) was to increase sales revenue, which comes from converting high quality leads. The third objective (54%) was to increase number of leads.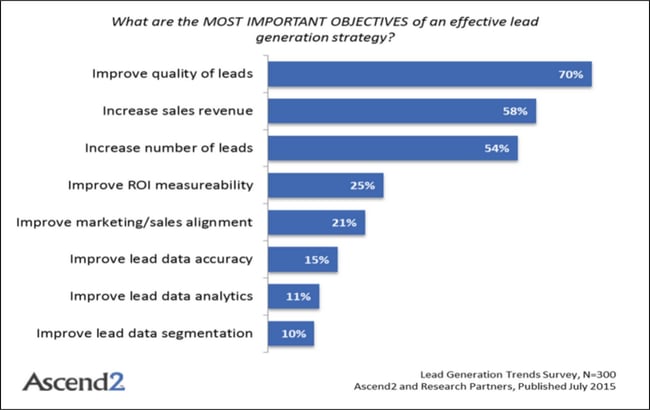 Respondents reported that email lead nurturing (48%) and website or landing page marketing (44%) were the most effective tactics to execute for lead generation performance. According to MarketingSherpa, organizations that nurture their leads experience a 45% lift in lead generation ROI over those organizations that do not.
Not all leads are at the same stage of the buying cycle. Some are in the early awareness stage and will need educational information related to their pain points before they'll be ready for a sales conversation. This is where email lead nurturing campaigns can help generate more conversions, by creating content related to their buyer person and where they are in the buying cycle.
Implementing a marketing qualified lead (MQL) strategy can help improve the efficiency and productivity of your sales organization by feeding them fewer, higher quality leads. A MQL is a lead that is more likely to become a customer compared to other leads based on their activity before converting. If marketing only provides MQLs, then sales will spend less time trying to qualify leads and more time closing the deals and bringing in more sales revenue.
---
By focusing on quality over quantity, marketing and sales will ultimately be able generate more revenue from fewer leads. It's the true essence of "Less is more!" and why so many marketers are using Inbound Marketing.
---