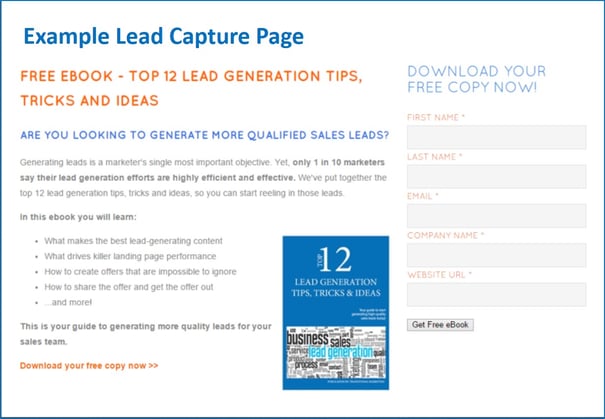 Lead Capture pages - sometimes called Landing Pages - are used to convert website visitors into leads by collecting contact information from them.
Landing pages are your digital sales reps that work 24/7. Converting unknown visitors to known leads provides you the necessary information to begin nurturing a relationship.
6 must-have elements of an effective lead capture page:
Headline
Description
Image or Video
Form
Remove Navigation
Social Share
---
Landing pages are the heart of the lead conversion process. Their sole purpose is to convert website visitors to leads. It promotes visitors to fill out a form with their information in order to get it. Landing pages work because they're based on a value exchange.
Here are the 6 must-have elements:
1. Killer Headlines
Write clear, concise, compelling headlines that are persuasive. Examples include:
Free Trial
Free Download
Register
2. Brief Description of the Offer
Explain the offer and it's value in 1-5 sentances. It's always good to start with a question that they may have and describe how the offer will help.
Ask them a question(s)
Explain the value proposition
Include bullet points
3. Supporting Image or Video
Offers with images or videos have higher conversion rates. They can actually see what they will be getting.
Include at least one image or video
Image/video should depict what the offer is
Place above the fold
4. Form
Most importantly is the form to capture leads
Form length to mirror the value of the offer
All fields listed do not need to be required (*)
Use a descriptive word(s) for them to "submit" the form
5. Remove Navigation
There should be no menu or navigation links. No distractions to take them away from the offer.
Remove main website navigation menu - Home | About Us | Blog | Etc.
Remove website footer navigation
Remove company logo navigation to the home page if setup
6. Social Share
Let vistors share the offer with thier networks of contacts!
LinkedIn
Facebook
Twitter